Aja, yes ... a lot has happened. Here is the summary of the most important events at Die ElbMonteure.
 BERLIN AIR
In April 2018, we will be renewing two ventilation control panels for Germany's market leader in ventilation technology at Gropius Passagen in Berlin. The Gropius Passages in the south of Berlin's Neukölln district are the largest shopping mall in the city with 85,000 m² of retail space and one of the largest shopping centers in Germany. Nice project!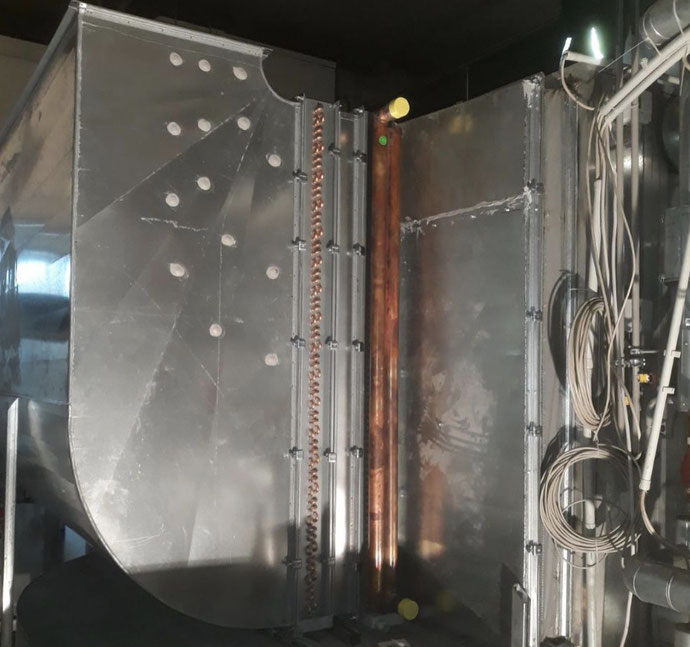 BATHROOM BOYS
A quick look back: in 2017 we installed over 1,000 bathrooms for our client. From the raw to the final assembly, from the guest toilet to the luxury bathroom. Throughout Germany. It will not be less in 2018, especially as we are currently installing hundreds of bathrooms in Hamburg-Nord. At the same time, we are installing hundreds of radiators on a major construction site on the Alster in Hamburg. Great, guys!
WELDING WORKS IN THE SOUTH
At Rheinmetall Neckarsulm our team installs black pipelines for heating and stainless steel pipes in welded design. Great that we are allowed to support!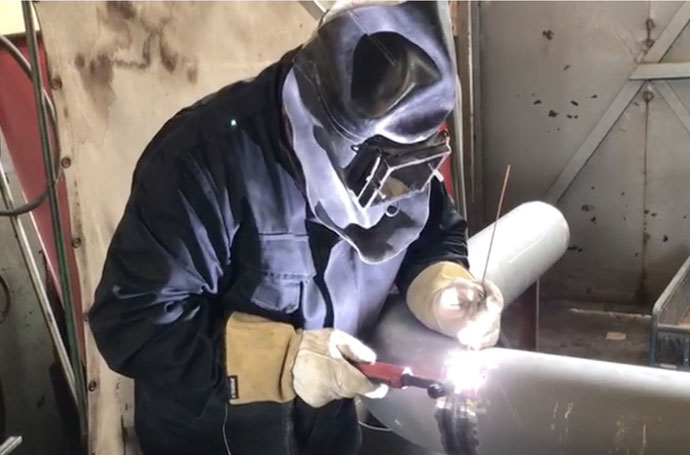 HOTEL BUILDING ...
... in Travemünde. What is being done? Heating, plumbing, refrigeration, ventilation. From the basement to the roof. Our boys are in constant use there from Monday to Saturday. In addition, we install piping for a company from Plauen - and for the swimming pool technology. Great!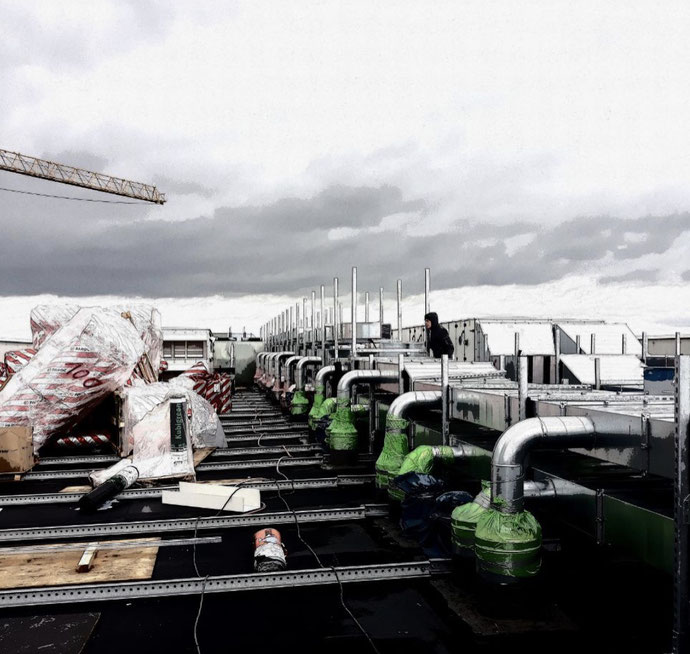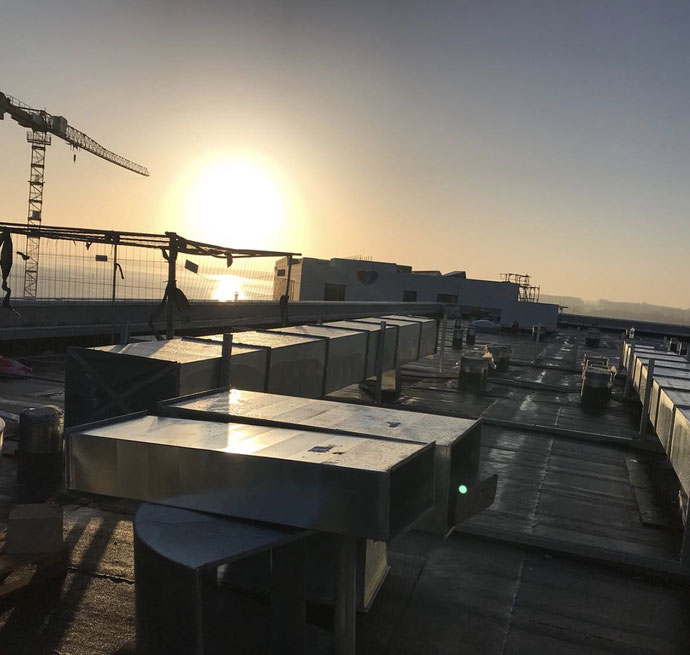 BLUE HELMETS ON GREAT MISSION
Our mandate: sprinkler system construction and fire extinguishing pipes on a major construction site in Bremen. Nice job. 👍🏼
1x FROM HAMBURG TO HUSUM
Short review of 2017: Last year, we installed around 12,000 radiators and associated 120 km of radiator bore material (cool word) throughout Germany for our clients in housing construction. This corresponds approximately to the distance from Hamburg to Husum (North Sea coast). Not bad, guys!
CENTRAL BUILDING IN THE CENTRAL HAMBURG 
First material delivery at the start, so you can start, right on the Alster. We install central heating units, refrigeration control units, ventilation control panels and service water heaters.
From small to large, from 20 kW to 5 megawatts - Oxy-fuel welding, WIGi welding, electric welding, pressing, soldering, screwing ... we do that and much more for your specialist companies on your construction sites. 🚧
MANPOWER FITNESS
Six-packs on the building are back on the rise - this is not the liquid version: we are currently designing our own fitness area for our more than 200 Elb engineers. After all, a good physique in assembly is the nuts and bolts. Looks a bit wild with all the equipment, but it will.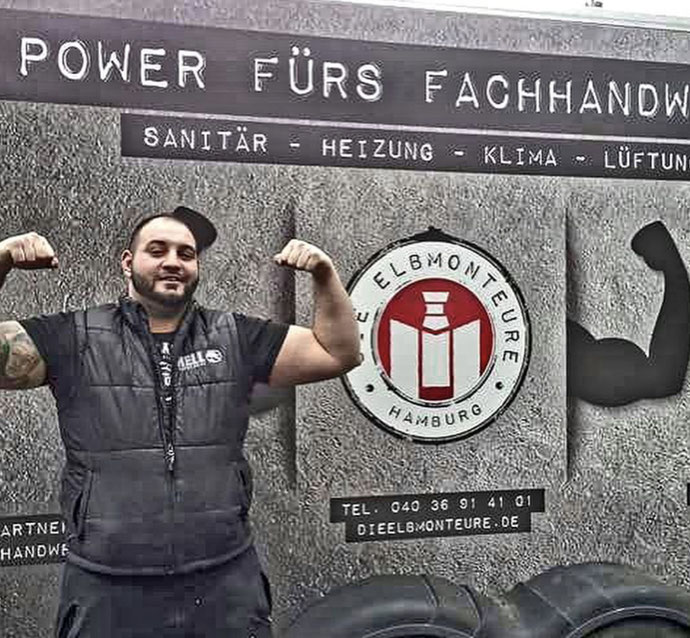 ON THE GROUND
Yes, in this project we are constantly squatting on the ground. For an old building renovation near Soltau. Refurbishment does not make us less happy as new apartment, hotel or industrial buildings. Book us now, dear specialist companies!
HOTEL CONSTRUCTION BERLIN
Currently in April 2018: 18 ElbMonteure are busy in Berlin and highly motivated on site and work from Monday to Saturday until everything is ready. You're great, guys. And looks good at work. That's how it should be.
HIGH OUT 
Ventilation assembly in the Hanseatic city of Bremen. Guys, you are the best!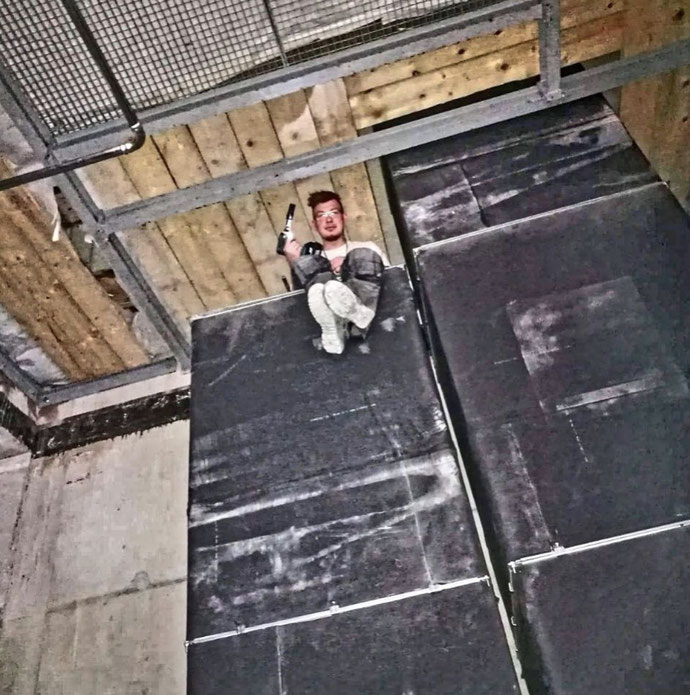 CULTURAL AWARENESS
Another exciting April project: ventilation system in the new building for the Hamburg State Opera backdrops. We like to support, for the benefit of the Hamburg cultural scene.
Background: The elaborate and space-consuming Hamburg State Opera backdrops get a new home! By the end of 2018, new workshops and a high-bay warehouse for the scenes will be built on a section of the old "Huckepackbahnhof" station on Billstraße. The € 68.4 million new construction will be just under 20,000 square meters. The red, "folded" metal façade should - reminiscent of the intended use - reminiscent of a stage curtain. The Elb installers are installing the right ventilation system for this project. Eight of our colleagues have been actively supporting a ventilation construction company from Bad Zwischenahn for months. Great, guys!
ELBMONTEURE AT THE ALSTER
At the Hamburg Alster, 14 fitters are currently supporting two major construction sites. What's the matter? Heating and ventilation construction, in addition central building, strand work, heating circuit distributor and much more. What else do we have on it? That's what our website reveals!